NEWS
Covalent Logic Public Relations Team Produces Preview Party
Covalent Logic's public relations team assisted in producing the highly successful preview party for "Walking with Dinosaurs: The Arena Spectacular," a theatrical show based on the award-winning BBC television series seen by over 700 million people around the world. The only stop in Louisiana, "Walking with Dinosaurs: The Arena Spectacular" will premier October 1, 2009, for a one-weekend engagement at the Baton Rouge River Center. On June 21, invited guests attended the Pre-Historic Sneak Peek event enjoying a special video presentation and live performances by a visiting dinosaur. "This was an exclusive preview of the most exciting event coming to Baton Rouge and I can't wait to be the first one to welcome our fossil friends!" says Mayor Kip Holden.




Appearances included "Kip" Holden, Mayor-President of Baton Rouge; Paul Arrigo, CEO of the Baton Rouge Convention and Visitors Bureau; and Dr. Judith Schiebout, paleontologist and associate curator of the Louisiana State University Museum of Natural Science. Also taking the stage at the Pre-Historic Sneak Peek was a 7-ft baby Tyrannosaurus Rex who gave children and their parents a special performance in a Jurassic Park-style atmosphere. "The event was designed to generate enthusiasm and build expectation for a truly amazing educational and entertaining experience," says Baton Rouge River Center General Manager Todd Mitchell. "'Walking with Dinosaurs: The Arena Spectacular' will be an incredible event and exceptional tourism opportunity for the city of Baton Rouge, as well as the state."

The Pre-Historic Sneak Peek was held at 1:30 p.m. on July 21 at the Baton Rouge River Center.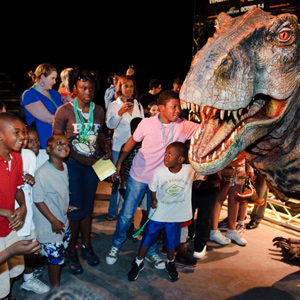 ABOUT THE SHOW
After years of planning, the award-winning BBC TV series "Walking with Dinosaurs" comes to life in a stunning theatrical event. Internationally renowned designers have worked with scientists and engineers to create 15 life-size dinosaurs, including the terror of the ancient terrain, the Tyrannosaurus Rex. Be amazed and thrilled as the greatest creatures ever to walk the earth return before your eyes.

Presented by Creature Production Company, in association with BBC Worldwide, it's a dazzling 10-million pound arena spectacle of unprecedented size and quality set to captivate young and old alike. Marvel at the story of their 200-million year domination of life on earth. Watch them walk. Hear them roar. Be there as they fight for survival and supremacy. From the ripple of their skin to the glint in their eye, you will know the dinosaurs really have returned! So make sure you have your seat to see the return of the dinosaurs.
For more information, visit www.dinosaurlive.com.

ABOUT THE BATON ROUGE RIVER CENTER
The Baton Rouge River Center is a 10,000-seat arena with over 30,000 square feet of exhibition space and more than 7,000 square feet of meeting space. It is also home to the Theatre of Performing Arts, a 1,900-seat venue. With the new 70,000 square-foot Convention Center addition, the Baton Rouge River Center contains more than 100,000 square feet of contiguous exhibit space. For more information, visit www.brrivercenter.com.