BLOG
Secrets from a Brand Guru
Your brand position represents the essence of your organization and guides all internal and external communications. It should accomplish certain objectives, which we like to call "the four D's:" it is desirable (by customers), distinctive (from the competition), deliverable (by the organization) and durable over time. These are the criteria that will inform your brand transition plan and guide your messaging. We talked with our Director of Production, Trae Russell, to discuss how to navigate the path forward.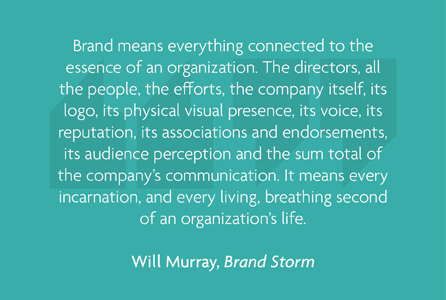 Does every organization need a brand?
Yes, every organization needs a brand, but not every organization knows whether they have a brand or not. Some people interpret brand as a logo, a tagline or a color. The brand is more encompassing than that.
I've been through several re-brands in my 20-something year career, and many times somebody will say, "We don't have a brand because we don't have anything like 'Just Do It.'"
Well, "Just Do It" is not a brand. "Just Do It" is a tagline which, in part, represents a brand. There's a lot of miscommunication about what one person thought a brand was versus what another person thought a brand was to what a brand actually is.
The key is to do a brand audit to see exactly what people know or perceive about your brand internally and what they perceive and think they know externally. You need both sides of the equation. What you think your brand is may be totally opposite of what other people perceive your brand to be, and from there you can identify the gaps and start working on your road map. You should invest in making sure your brand aligns with the company's vision, values and culture.
Some organizations lack a cohesive visual identity or communication structure.
What is the first step to creating a brand?
The brand audit. Doing the research well before you start implementing creative is the key. Even if you're a small company, your brand audit and road map should be just as well-defined as a large company (although it may be shorter). In a perfect world, you would do an internal survey, an external survey and reach as deep and wide as possible in terms of what your resources will allow. What you want to get is a bird's eye view of how people perceive your brand from many different perspectives. The audit process will ensure that you understand what your company's core values are. What your strengths and weaknesses are. What your services are. What your perceptions are. Then, come up with a comprehensive, cohesive road map and that will allow you to make sure that everything your brand touches is documented and (this is very important) make sure everybody who is going to be instrumental in executing this roadmap is involved from the very beginning.
I've seen several situations where it's an attitude of "Oh well, marketing is in charge of the branding/rebranding effort." Well, it's not just marketing. This task can't be accomplished in a silo. You really need everybody from every core division or department in the company involved in the process because it touches every division, every department. For example, you need HR involved because you have HR documentation and the employee handbooks. You need sales involved because of all the sales collateral that has to be rebranded. You have to consider things you wouldn't normally think about like the vans and vehicles and the facilities. Then you fall back to all the stuff you would normally think about in the marketing department like advertising and marketing materials. It's a company-wide initiative. Everyone has to be involved from the beginning.
What kinds of factors play into choosing an existing brand in a merger/acquisition versus creating something new?
It's important to have boots on the ground to understand the employees' perceptions of the company. You can do focus groups, spontaneous surveys, send out written surveys and email surveys. Then compare the perception of the brand in the market with the core audience and determine if that aligns with the parent company. If the perception is very different for the two brands, it's a good opportunity to rebrand. It goes back to the research. You need to know what effect it's going to have in your market, and what the perception of your brand is currently. All of that has to be weighed relative to costs and what your resources are.
You can successfully complete a full brand relaunch, brand equity or not, if you have the right resources. If your company says we have to do the rebrand, whether for business reasons or financial reasons, you can overcome it, but you better know what your resources are going to be, and how much you're going to have to allocate to that type of endeavor because it can get costly quick. Do the research. Have a solid plan. Make sure you understand what resources are required to implement the plan fully and then commit to the plan and implement the plan. You have to make sure that everything is documented. Everyone needs to know what they're doing. Identify everything that has to be touched. Come up with a very solid schedule and realistic timeline. Otherwise your whole plan won't be successful. You have this very strategic plan that you're trying to implement but it's going to come across as hodgepodge if you don't implement what has been decided.
When is it time to rebrand?
It could be because the perception of the brand and how you want your brand to be perceived has misaligned. It could be that the business model has changed. Business factors are a major reason to rebrand. These include mergers, acquisitions, spin-offs and things like that. There are economies of scale of being branded all under one flagship brand. There are financial implications associated with operating as individual companies. One of our clients is going through a rebrand because they appear disjointed. They are trying to rebrand themselves so they don't appear to have individual brands under one flagship. It's an organizational thing so they can combine strengths under one big brand and be cohesive.
Another scenario is when your brand no longer aligns with what your company is. One company I worked with had a logo that didn't accurately reflect what the company had become. The logo and the branding were misaligned. The logo, which is part of the brand, represented only a small part of the company. It needed to be updated to reflect what the company had become over time.
How is rebranding different than redesigning a logo or website?
This is a function of a rebrand. It's one spoke on the tire. Many people misperceive doing a new logo or website as rebrand, but it's not. It's only one piece of the puzzle. It's one tactic in the overall rebrand strategy. These are key components of a rebrand: very visible and very important. They need to be a part of your plan. But, it's like saying you're doing a remodel of your house and you decide to do your kitchen and your front door. What about the rest of the house? If you remodel the kitchen and front door and keep the rest of your house the same, it's going to be disconnected. It's going to be disjointed.
What are some key obstacles to expect when considering rebranding?
You have to align your rebrand effort with your available resources and make sure that everyone is fully aware of the resources that need to be put toward a project like rebranding. You can start with a multi-year plan, which is very common, because of the resources it takes to do something like this. Multi-year plans are fine but you have to make sure that everyone understands completely what's required, what the timeline is and what the effort is, before you take that first step.
Another thing to watch out for is making sure the plan is well-documented and well-communicated in the organization. Everyone, starting at the highest level to the lowest level, needs to know what that plan is, what the end goal is, what they're expected to do as part of this process, and when they are expected to do it.
Following the road map is essential. Make sure it is well-vetted and communicated clearly to everybody. It's like stepping out on a ledge. Once you take the first step you're committed. I find a lot of times, people may want to bypass the research phase, but it's integral to this process. You want to make sure your data supports your rebrand efforts. Some people think skimping on the research can be cost-effective, but it can put you down a wrong path quickly. Then you're pouring resources into a plan that is strategically inaccurate because you haven't done the research. You have to allot the time to do as much research as your resources allow. It needs to be a part of the timeline in the plan.
Another obstacle is ensuring you have the right creative partner or communications partner. This is where we come in. Make sure that the creative partner that's going to help you with this endeavor is fully on-board and understands your road map. If your creative partner helps you implement the roadmap, even better. You have to treat the creative partner for this project just like you would treat somebody that's a part of your company. That's how integral it is. This also goes for the communications agency and the PR behind it as well. Make sure that the PR, the social strategy and the corporate communications aspect of this is aligned with your creative implementation. You need the right partner, with experience in navigating a brand road map.
One of the hardest parts of going through a rebrand is continuing to market your company and selling your services. You can't just stop marketing while you rebrand. At some point, the marketing will have to reflect the rebrand, but ongoing marketing efforts have to be a consideration even during the rebrand process. This is where you can really lean on your creative and communications partners to shoulder some of the burden so you can continue moving your business forward.