BLOG
February: From Drinking Wine to Swallowing Swords, It's a Fun-filled Lovefest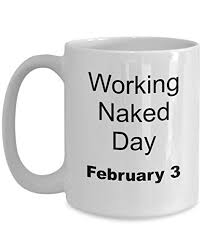 - 1st:
Working Naked Day:

More than 20 years ago, Lisa Kanarek was, to say the least, apprehensive about leaving the corporate world to work from home. Turns out there was no need, because today this humorist and author is one of America's leading experts in how to create the perfect home office space. And to best express the freedom and flexibility she experienced in being her own boss, she decided to create her own holiday. The first Friday in February is set aside to salute all home office entrepreneurs and encourage them to undress for success. While we assume those working in an office building are technically eligible to participate, we au naturally don't think it's a good idea.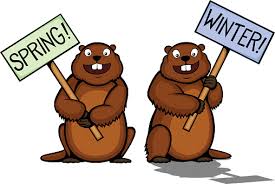 - 2nd
Groundhog's Day:
When German settlers arrived in Pennsylvania in the early 1700s, they brought Candlemas Day with them. A superstitious bunch, they believed if that day was sunny, a badger would see his shadow, thus foreshadowing six more weeks of harsh winter. With badgers in short supply in Pennsylvania, they switched to groundhogs so they could continue their custom. In 1841, local editor James Morris wrote about the event, and proclaimed the rodent as meteorologist extraordinaire. For the next 152 years, the quaint holiday was widely-known, but it wasn't until 1993, and the release of Bill Murray's Groundhog Day that it became a bona fide favorite. This delightfully dark comedy not only managed to elevate the groundhog to rock star status, but made Punxsutawney look like an adorable hamlet. Unfortunately, they achieved this by filming it in Woodstock, Illinois.
As a fun side note, February 2nd is also Hedgehog Day and Marmot Day. We assume since the groundhog was getting all the attention, someone made these up so no one felt slighted or got their feelings hurt.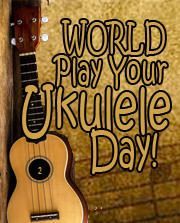 - 2nd
World Play Your Ukulele Day:
The ukulele (which literally means "jumping flea") was created in the 1880s as a variation of the Portuguese machete (the instrument…not the sharp thing…or the Danny Trejo movies). It's been closely associated with musicians such as Ukulele Ike, Tiny Tim and Israel Kamakawiwo'ole, and, along with the slack key guitar, a major influence in Hawaiian music. The observance was created in Canada (Canada?) to honor the Doane Program which brought music appreciation to thousands of students by teaching them to play ukulele. It's a good day to see if your dog has fleas so you can tiptoe through the tulips!
Loyal readers who caught December's article on Over the Rainbow will be interested that Israel's ukulele version has become nearly as popular as Judy Garland's.
- 3rd
The Day the Music Died Day:
On this day in 1959, a small chartered plane took off in a snowstorm and crashed over Clear Lake, Iowa. Among its passengers were Buddy Holly, Richie Valens and J. P. Richardson. Holly, a celebrated songwriter was regarded as the founder of modern day rock 'n roll. Seventeen-year-old Valens was a rising star with hits like Donna and La Bamba. Richardson (a Texas disk jockey who went by the stage name the Big Bopper) was a tour favorite due to his novelty tune Chantilly Lace. News of the tragedy stunned the world and became a pivotal moment in rock history. In 1971, guitarist Don McLean released his symbolically laden song American Pie. Within its lyrics, he aptly described the event as the day the music died. Ever since, it's been set aside to mourn these pioneers' untimely deaths and acknowledge their indelible impact on rock music.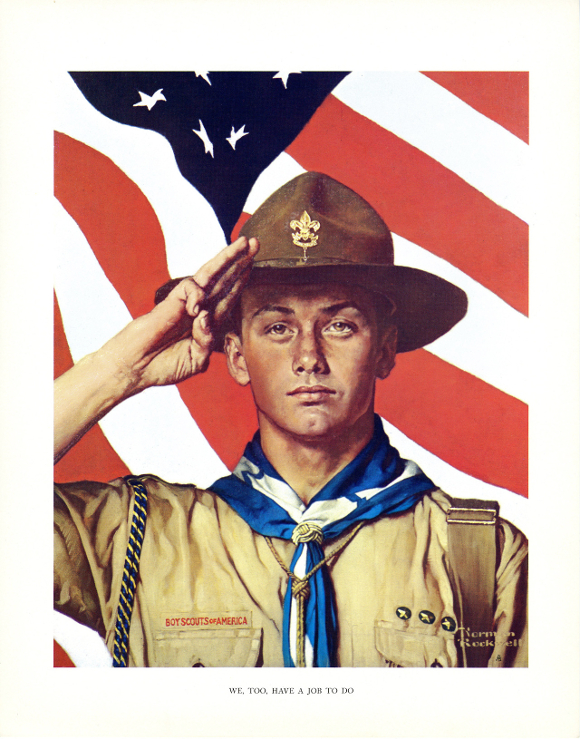 - 8th
National Boy Scouts Day:
In 1910, publisher William Boyce did a good turn when he filed to establish the Boy Scouts of America. This organization has been invaluable to millions of young people, building character and offering life skills that last a lifetime. Whether Tenderfoot or Eagle, Be Prepared to salute.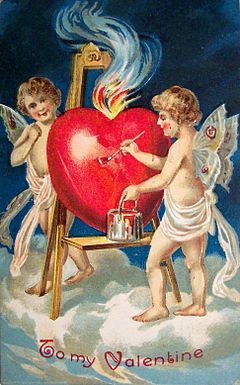 - 14th
Valentine's Day:
Beginning in Rome in 269 A. D., the Christian Feast Day was initially created to honor Saint Valentine of Rome, but soon expanded to include the joy of love and romance. By the 18th century, the tradition of giving flowers, candy and cards was already a well-established expression of affection. Today, it's one of the most popular—and profitable—holidays of all. For companies like Hallmark, FTD, Jared, Victoria's Secret and a host of others, it's a payday like few other. Annual expenditures regarding matters of the heart have reached $20 billion a year, which roughly comes to $61 for every person in America. You gotta love that.
We'd be remiss without an honorable mention to other February holidays that fan the flames of passion, including National Marriage Week (7th – 14th), Love Makes the World Go 'Round but Laughter Keeps Us from Getting Dizzy Week (8th – 14th) and the Celebration of Love Week (10th – 16th).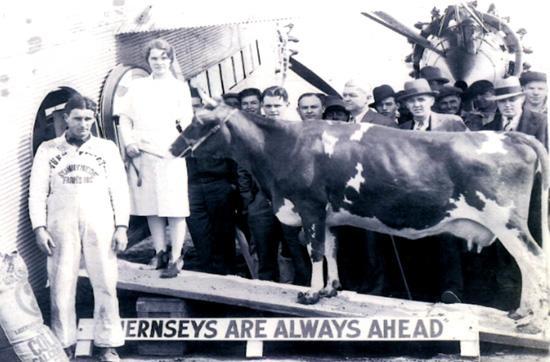 - 18th
Cow Milked While Flying in an Airplane Day:
Ever felt like you're being herded onto a crowded airplane? We can beat that. This day marks the 88th anniversary of when Elm Farm Ollie was corralled aboard a Ford Tri-Motor aircraft so she could appear at the International Aviation Exhibition in St. Louis. Legend has it that while in flight the bounteous bovine produced 24 quarts of milk that were then stored in cartons and parachuted to spectators below. It was even rumored that Charles Lindbergh caught and drank one, but we find that story utterly ridiculous.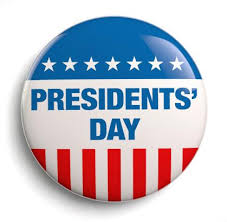 - 18th (The third Monday of February)
President's Day:
For years, Americans strived to remember Lincoln's birthday on the 12th as well as Washington's on the 22nd. That is, until our government, in a rare show of bipartisanship, decided to meet halfway to create a single day to acknowledge all those who led our nation as Commander in Chief. Oh, if it were only that easy for them to agree every time.
- 18th
National Drink Wine Day:
Although the origin of this unofficial holiday is unknown, the enthusiasm well makes up for it. The day is intended to applaud the pageantry (and oh yeah, the health benefits) of imbibing vino. Whether you prefer Chablis or Malbec, we recommend you celebrate in moderation.
- 23rd
Curling is Cool Day:
Since its inception in 1511 on the frozen ponds of Scotland, this sport has been a curiosity worthy of Obscure Sports Quarterly. It was introduced into the Olympics in 1998, and while its popularity hasn't exactly swept the nation, thanks to social media, Chess on Ice has attracted a solid cult following.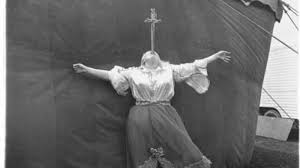 - 23rd (The last Saturday of February)
International Sword Swallowers Day:
Established in 2008 by the Sword Swallowers Association International (yes, they're actually a thing), it's a day to celebrate this creepy, centuries-old art and its contributions to the worlds of medicine, science and entertainment. If there was ever a time to inject the phrase "don't try this at home," this would be it.
- All month long
Responsible Pet Owners Month:
With all that unconditional love coming at you, this observance is easy to love back. Throughout February, pet owners are encouraged to heed the hints that can help us take better care of our furry family members.