BLOG
Covalent Logic Founder Stafford Wood Shares Social Media Insight as Red Stick FutureFest Panelist
The Red Stick FutureFest debuted in 2005 as an animation and technology festival. It has since expanded to explore an array of topics such as digital media, gaming, music and technology. Focused on the future of technology and innovation, this unique festival inspires the next generation to look at science, art and technology in a new light. The second of seven events at this year's festival, The Future of Social Media panel was held on March 28 in the Digital Media Center on LSU's Campus. The director of the event, Dr. Lance Porter, is a Manship School of Mass Communication professor and the director of LSU's Social Media Analysis and Creation Lab. Social media panelists included Stafford Wood, Rob Hudak, Jordan Cranch, Chelsey Laborde Blankenship, Ben West and Leslie Presnall. All six panelists are leaders in their lines of work and have had years of experience keeping up with the ebb and flow of everything social media.
The panelists each had their own insightful stories, theories and concerns about the future of social media that they shared with the audience in a lively discussion. Covalent Logic founder Stafford Wood provided her observations on how marketers can keep up with the ever-changing social media trends. The discussion began by exploring the numerous social media platforms available today and how much has changed since social media began. Wood touched on the way social media is "always changing, becoming different and new" and how social media marketers "need the skills to read, write and experiment." Without these skills, their brands and products will not be noticed or effectively advertised. Starting as a cyber-cop for AOL in the 90s, Wood has years of experience in the world of social media marketing. Along with founding her own communications firm, she has become a well-known public relations professional, winning numerous awards such as the Junior Achievement and Baton Rouge Business Report's Young Business Person of the Year.
The panelists discussed how social media is continuing to take over, causing everything on the internet to become social in some aspect. Social media is currently at the "second screen" position, serving as something we do to entertain us on the side while we are doing something else. Ben West, the current digital marketing manager for Abita Beer, Reylon, Pedro Guardian and others, stated that "social media will continue to move forward and fight for the first screen spot." West and other panelists agreed that this screen position will change because of the rise in usage of all forms of social media. West predicted that "the term 'social media' will go by the wayside" as our online interactions continue to transform.
Many people's personal and professional lives revolve around social media, and this increased usage has made social platforms an ideal place for brands to advertise. It is often discouraging for users of social media to constantly see advertisements and spam, especially if they are using the app for the fun, social aspect, not the business aspect. Jordan Cranch, brand and content strategist at the branding and interactive agency Deep Fried Ads, said, "Users are spreading out into other alternative platforms such as Reddit." This is making it harder for social media marketers to reach their target audiences because they are scattered amongst many different platforms.
The popularity of Reddit has skyrocketed recently, surpassing Twitter for number of users on the platform. Reddit provides a sense of anonymity, with profiles that are less personalized than on other social media platforms. Many users enjoy being somewhat anonymous on this app, which makes it hard for marketers to reach them. Reddit also has an old-school 90s aesthetic that users enjoy. "What is old will be new again - it will come back around," Wood said. Just as 90s fashion is coming back in style, Reddit's vintage design is attractive to users, as well as its lack of unwanted advertisements.
While Facebook is still the most popular in terms of sheer numbers, many panelists agreed that it has plateaued recently because of its lack of innovation. They discussed how Facebook's look has stayed the same since the beginning, while other social media platforms are constantly changing and improving. Wood touched on how each social media platform is used differently and how what you post on one may be different than what you post on another. "Most people want to be one thing to one person and one thing to another person," she said. "It will be about segmenting your life."
This segmentation will be the future of social media and has hurt Facebook already. Facebook is now seen by young adults as a platform that has been taken over by their parents and other adults. As a result, most people in their 20s and younger are forgoing Facebook in favor of platforms such as Instagram, Twitter and Snapchat. Although Facebook usage has gone down, it still remains very important to businesses because it is a great place to reach an older demographic. "Facebook is incredibly important to small businesses," said Cranch. Facebook was one of the first social media platforms to gain traction, and it remains crucial for many people and businesses.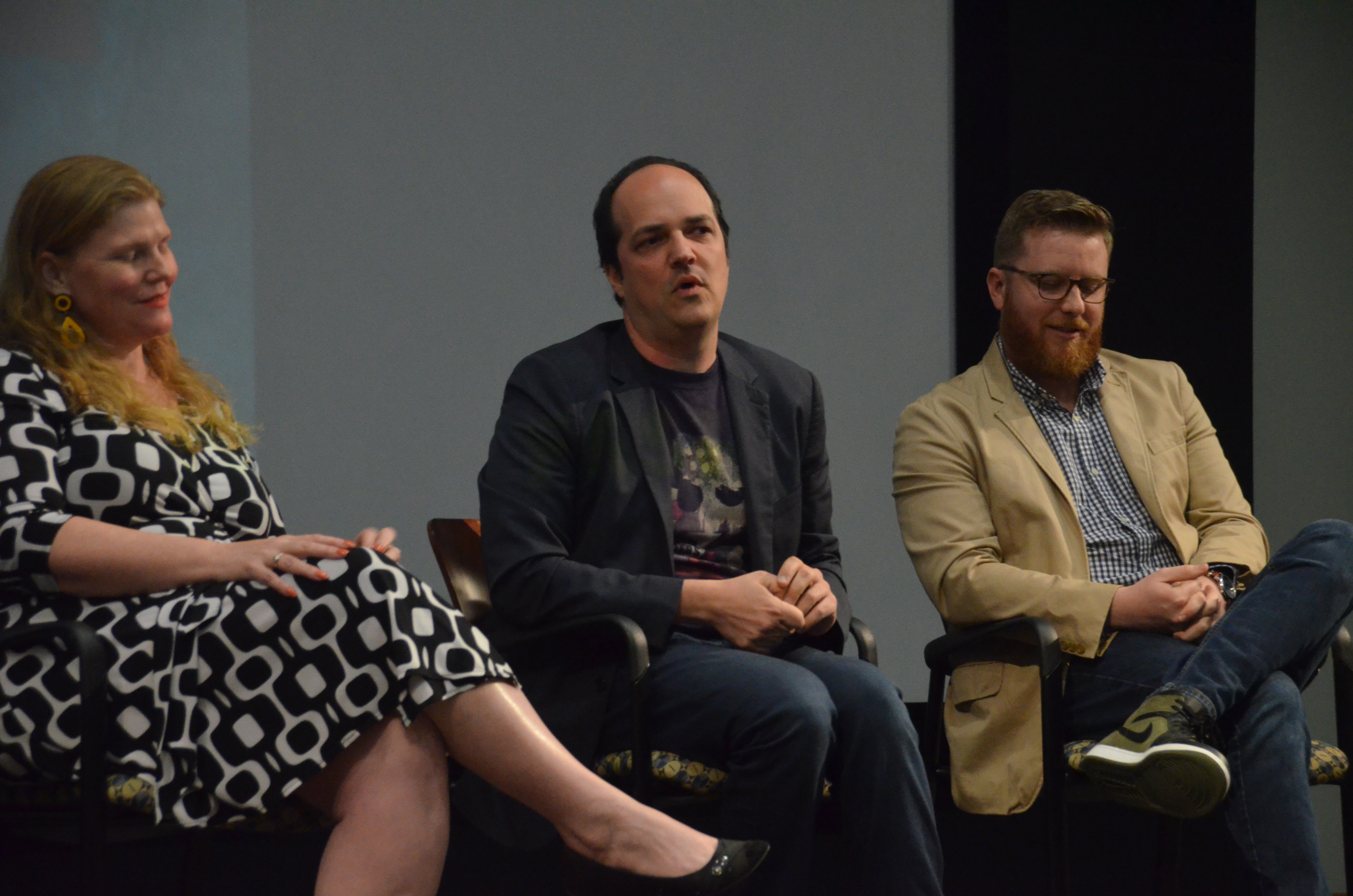 Another memorable discussion topic was how social media is steadily evolving, so it is hard to stay on top of the newest trends and to plan for the future. The panelists agreed that audiences respond well to the use of "stories," or live photos and videos. While Instagram and Facebook stories are fairly new, they have opened a new platform for marketers to interact with customers and provide personal touches that resonate with their audiences.
Videos provide a live platform for potential customers to explore and also give brands a chance to connect on a more personal level. Snapchat has become incredibly popular for their use of video. Snapchat was the first to use the disappearing videos, making them innovators in their field. Other platforms like Instagram and Facebook followed in their footsteps and incorporated this video feature as well. Social media has made it easier to communicate with brands and organizations directly, through comments and messaging. Because communicating with brands online is so accessible, brands use customer feedback often to shape what they post on social media. This direct line of communication allows brands to get valuable feedback on their products, which previously was difficult to acquire.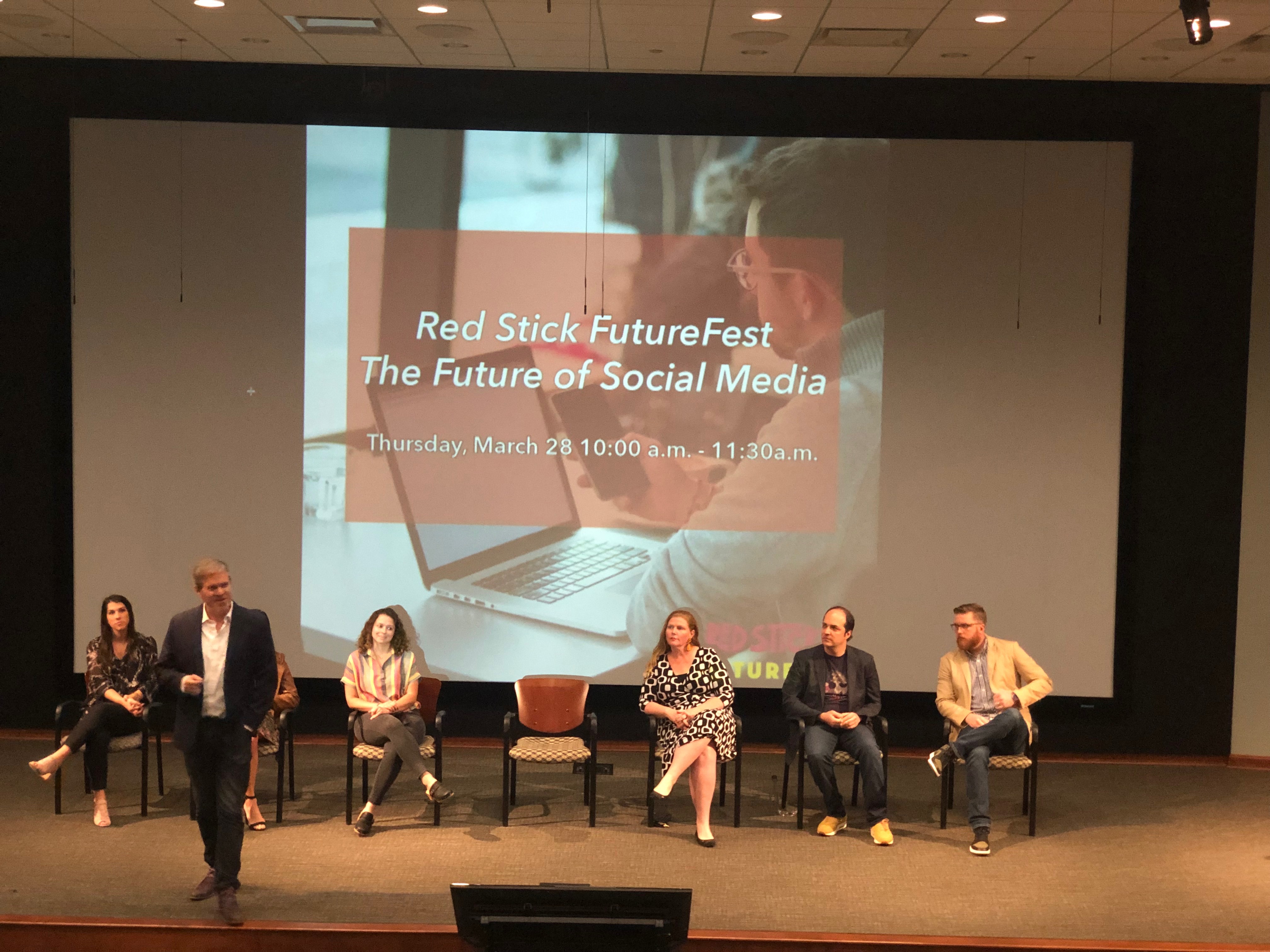 While this easy access is great for both the customer and the marketer in many ways, it has opened the door to the dangers of social media as well. When Wood was first introduced to social media in the 90s, she had the very important job of protecting online communities from "trolls," or online bullies hiding behind a screen."My first experience in social media was building online communities that were protected." These communities were protected because a credit card was often required to be able to make an account, making it harder for bullies that were kicked off in the past to re-enter the community. Now, it is easy for anyone to make a free account on the popular social media platforms and to remain anonymous when saying offensive things online.
Wood witnessed this transition from a world that was about protecting discourse to a world where children must be protected from online threats. The ability to remain an anonymous tormentor online worries the panelists about the future of social media. Many people forget that there is another person behind the other screen and that being an internet "troll" is harming a real person. The panelists hope that this rise in online bullying will diminish because of the negative effect it may have on the young demographic of these platforms.
The panelists had time to answer questions from the audience and provide closing remarks. They commented on digital advertising and what advertisers should keep in mind regarding the future of technology. The consensus was that no matter where social media is headed, the content that is posted is always the most important aspect. "Content is king, it will always be king," Wood said.