BLOG
Jumping on the Brandwagon: Trendjacking, Newsjacking and Making the Most of a Moment
Once upon a time it was called striking while the iron is hot. Or using a window of opportunity. Or simpler still, preparing in advance.
Promoting candy and flowers before Mother's Day, turkeys before Thanksgiving or toys before Christmas are marketing techniques nearly as old as the holidays themselves.
But thanks to a data-driven world, combined with the hair-triggered speed of social media, these quaint terms have evolved into newsjacking and trendjacking.
Today we'll define them, defend them, offer sage guidelines and feature a few examples ranging from amazing accomplishments to epic fails.
Newsjacking is the technique of injecting your idea or brand into a breaking news story to gain media coverage and social media engagement. Trendjacking is when you capitalize on a current trend to bolster your brand. As you can see, while the end goals are basically the same the difference is primarily time and urgency.
Sure, trends are fleeting but at least they stick around longer than a this-just-in headline.
Both are designed to gauge your brand's loyalty, product's popularity and company's creativity. They can increase searches and drive traffic to your website and social channels. They can position you as a "thought leader" due to your rapid response and skilled finger on the pulse of what's happening. And ultimately, they can help you profit by gaining new and brand-loyal customers.
However, there's a catch. Due to the need for speed (and the mayfly-like shelf life of a breaking news story) resources like in-depth research, focus groups or test markets aren't always feasible, forcing companies to rely on experience and gut instinct.
Yet even when time is of the essence, it's essential to pause and consider a few key questions.
Is your message timely? And equally important, can you deliver it in a timely fashion? As mentioned before, newsjacking is a world of blink-and-you'll-miss-it, so your message needs to be both spot on and ready to roll within hours — if not minutes.
Oh, and having the right software that allows you to stay on top of the news can't hurt.
Is your message accurate? Depending on who you ask, there's fake news out there. Find out. And, as the old soccer axiom goes, "When in doubt, kick it out."
Along those lines …
Do you understand the trend? After a video surfaced of NFL's Ray Rice beating his fiancée, thousands of women tweeted their personal stories of abusive relationships, and the hashtag #WhyIStayed was born to silence those who criticized the victim's decision to remain with him. Frozen pizza giant DiGiorno quickly decided to put their own spin on the hashtag. The problem was they hadn't read the story's background. When they responded to the tweet of #WhyIStayed with "You had pizza," their reputation, much like their product left in the oven too long, was badly burned. The moral? Before you join the party, figure out what the hell you're talking about. And ask yourself if your message could in any way be construed as negative, unseemly, sexist or insensitive. Because if someone thinks so, they will let you know. Which means everyone will know.
Does it fit your voice? Your brand? Does it align with your values? As you'll see in the following examples, newsjacking and trendjacking memes can be made in heaven. But if they're perceived as gimmicky, forced, opportunistic or tasteless, there will be hell to pay.
Now that you're armed with these guidelines, take a step back and think critically. Play devil's advocate and try to poke holes in your jacking of choice. If it resembles Swiss cheese, rethink it. But if it's solid, roll the dice.
From brilliance to buffoonery, these brands have shown us that anything can happen.
The Good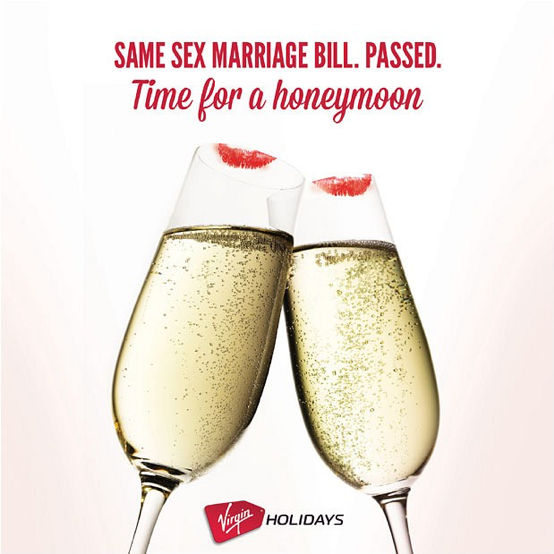 The wedded bliss of Virgin Airlines: While a court ruling on same sex marriage was pending, the forward-thinking airline and their ad agency (anticipating a yes decision) prepared a celebratory print ad that would run the next morning. But after reevaluating its impact, they decided instead to bombard social media within minutes of the announcement. Despite expected opposition and criticism, Virgin was applauded for their support. And what began as a single print ad blossomed into a full-blown two-year campaign.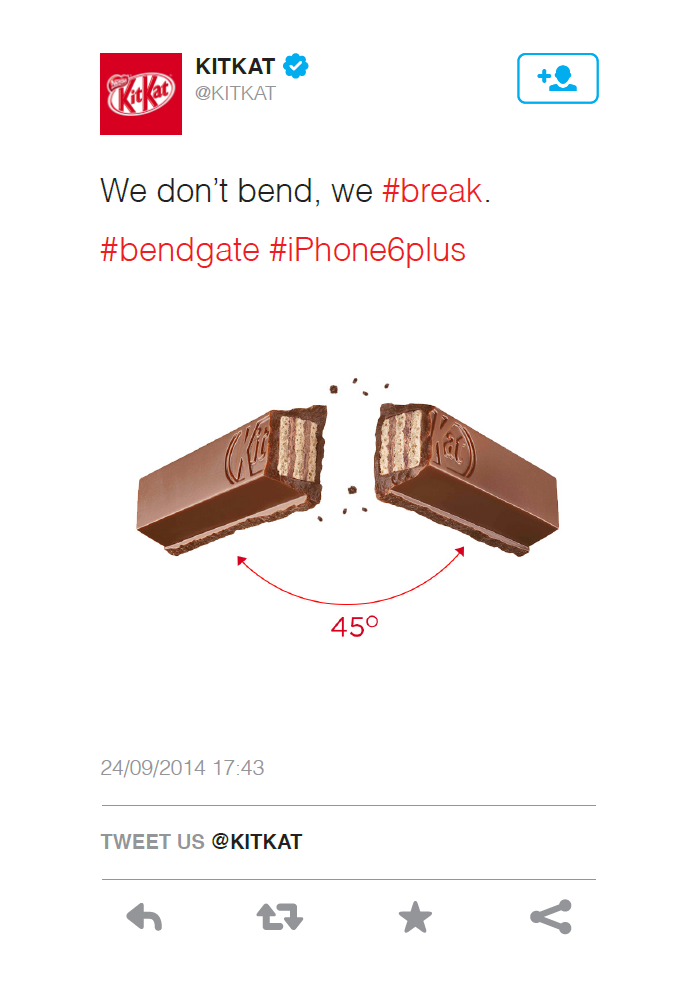 Sweet success for KitKat: When users complained the new iPhone 6 would bend in their pockets, the popular snack quickly dubbed the controversy as "Bendgate" and created ads that took a good-natured bite of the Apple while fortifying their brand. Overnight, with nearly 40,000 likes and retweets, flexing their newsjacking skills proved to be a snap.
Presidential penmanship: During the 2016 debates, people noticed the only thing more intriguing than Trump's tweets was his handwriting. As BuzzFeed prepared an article lampooning his blocky scribbles, they saw a wacky window of opportunity to take the fun a step further and had a graphic designer create a customized font called Tiny Hand. One graphologist described it as a "Walt Disney with hands the size of a GI Joe, etching away with a Sharpie Magnum."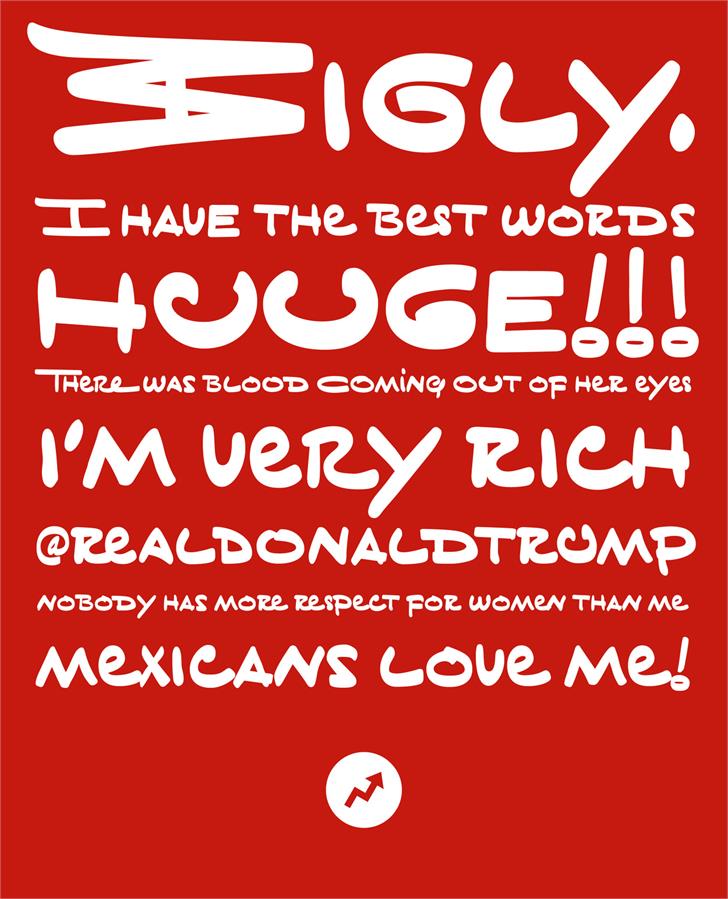 Update, November 2019: As the President commented on the impeachment proceedings, one social media user was so inspired by Trump's handwritten notes, he immediately turned it into a Ramone-esque tune Joey, Johnny and Dee Dee would have no doubt enjoyed.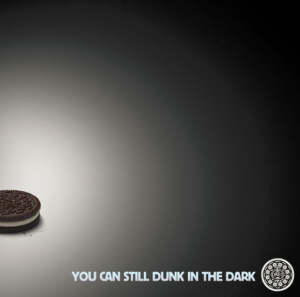 Slam dunk for Nabisco: When the Superdome in New Orleans experienced a huge power outage during the Super Bowl, everyone was stunned. Well, everyone but a handful of quick-thinking creatives from the 360i agency. Within minutes, they tweeted the reassuring message "You can still dunk in the dark," which immediately collected thousands of likes and retweets. The best Super Bowl ad of the day wasn't even a commercial, and after nine years it's still considered the best real-time newsjacking of all time.
Other examples of newsworthy newsjacking and trendjacking include:
The Tennessee Vols tee shirt that struck a blow against bullying
Bisquick, Doritos and British burgers mixing it up in politics
A toast to a beer that brought us all closer together
And the Bad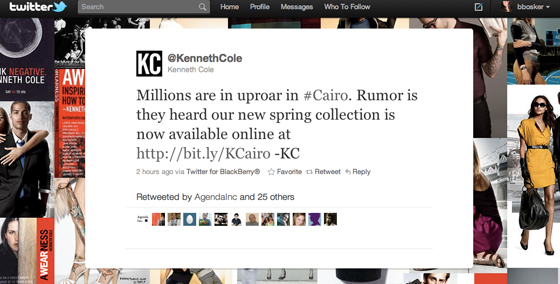 The ill-fitting flubs of Kenneth Cole: In 2011, Egyptians were protesting the corrupt regime of President Hosni Mubarak. Sensing an opportunity to introduce their new product line, the fashion icon tweeted the wildly inappropriate "Millions are in uproar in #Cairo. Rumor is they heard our new spring collection is now available online." In response to the negative uproar, KC removed the tweet and issued an apology. Lesson learned? One would think. But in 2013 amid a Syrian civil war, they paraphrased a White House soundbite and tweeted "Boots on the ground or not, let's not forget about sandals, pumps and loafers. #Footwear." After more outrage, backlash and apologies, one can only hope that the next time they put their foot in their mouth it's a sandal and not a high heel.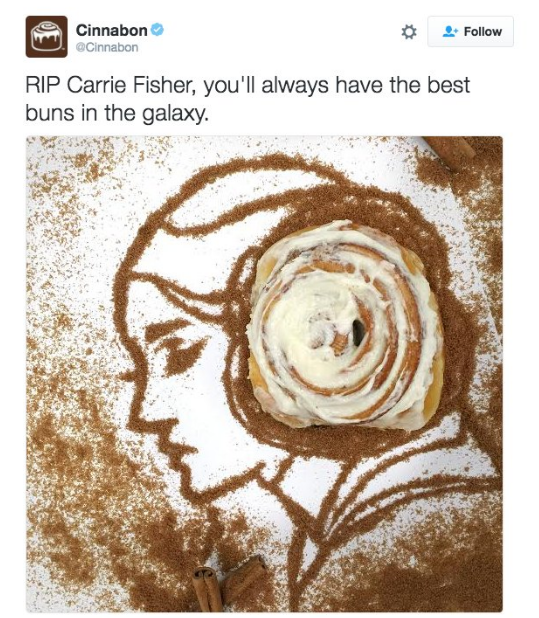 May the forced be with you: Actress and author Carrie Fisher's most iconic role was that of Princess Leia from the Star Wars franchise. More iconic still was her hairdo, which resembled two giant pastries. Mere hours after her death, Cinnabon believed linking their product with a clever final farewell was in order, so they tweeted "RIP Carrie Fisher, you'll always have the best buns in the galaxy." For many, this attempt to capitalize on a moment only revealed the company's dark side. To get out of this sticky situation, they deleted and begged forgiveness.
Weathering the storm of stupid: Natural disasters can bring out the selflessness in some people — and the opportunity to make a buck in others. Such is the case with Sears, who rapidly responded to a calamity with "Did Hurricane Sandy affect your city? Get your generators, air mattresses & more in one place." As newsjacking faux pas go, this wasn't the worst. Nevertheless, thousands of irate customers saw it as an attempt to profit from an unfortunate situation. A similar fate fell upon Urban Outfitters' "This storm blows (but free shipping doesn't)! Today only."
A good rule of thumb is that when it comes to death or disasters, offer your sympathy but leave out the special offers.
Other branding blunders include:
SpaghettiOs' salute slip up to Pearl Harbor
Soft drink falls flat on serious social subject