BLOG
Matt Kenyon: The Long Route Home
It wasn't all that long ago that artist Matt Kenyon stumbled upon the very first painting he ever made in his parents' attic. It was a surprising find, not just because he painted this piece at age 13, but because most everything else in his parents' attic was destroyed in the 2016 flood in Baton Rouge. The painting is of a Somali refugee and tells a story of plight, victory and the need for global social reform. Even before Kenyon knew the words to express his desire to create social change, he was painting about it.
"Being a painter was a big part of my identity, a really important thing to me," said Kenyon.
While Kenyon started with a brush and paint, his art has expanded off the canvas. Kenyon is known for thought-provoking, timely and prolific installations that he hopes not only evoke emotion, but actually enact societal change, raise the collective consciousness and even affect policy. He's taken these works around the globe, showing regularly in places like the Museum of Modern Art, New York, MOCAD Detroit, Science Gallery Dublin, Centre de Cultura Contemporània de Barcelona and the International Print Center.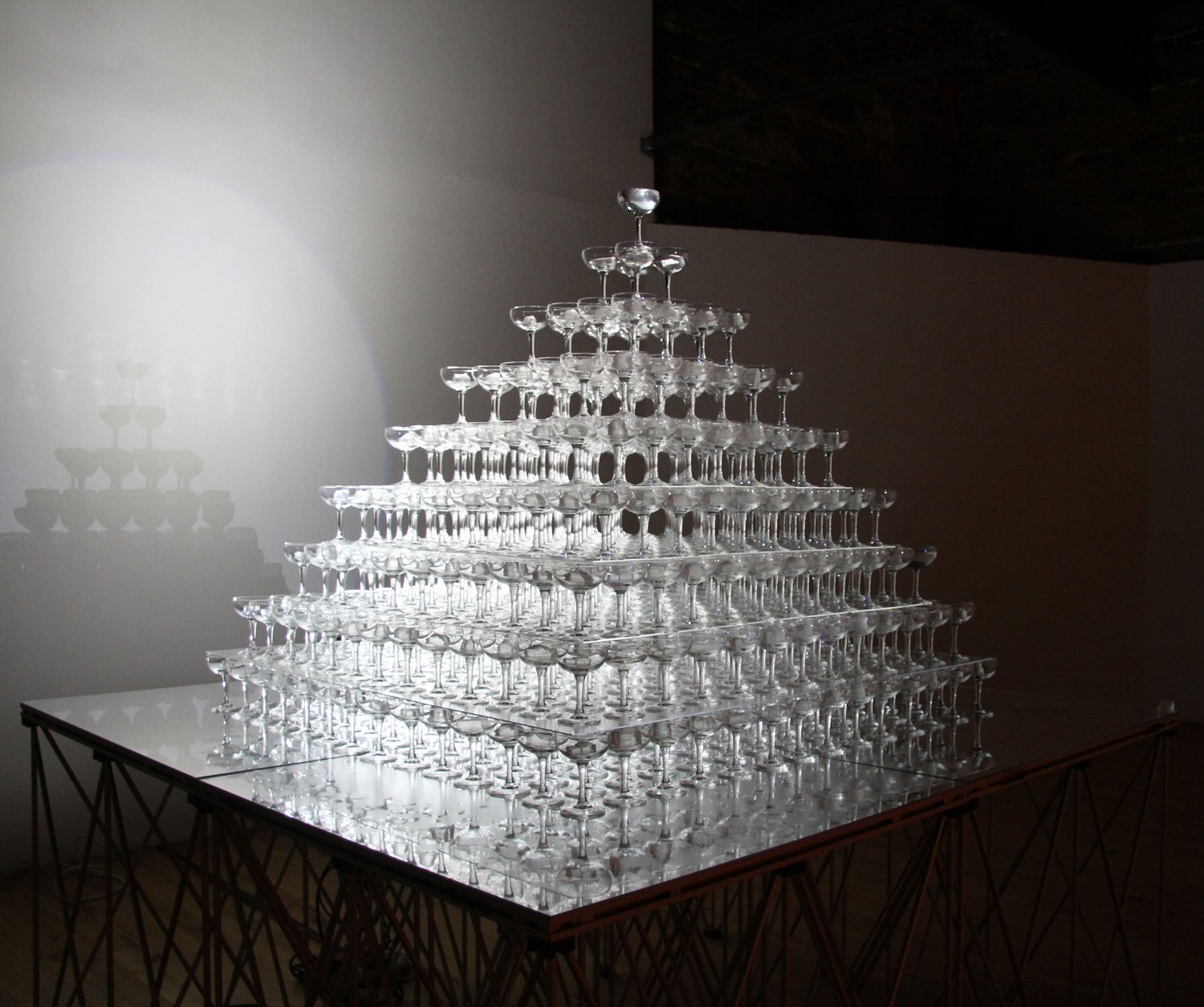 Right now, Kenyon is shipping thousands of glass champagne coupe glasses from his home in Buffalo, New York to Baton Rouge, where he was born and raised. Not for a party, but for an exhibit. Kenyon will debut Tide at the Baton Rouge Gallery in August. Tide is a project about the Great Flood of 2016 in Baton Rouge, the same flood his first-ever painting narrowly escaped.
"Some of my family lost their homes and some of them basically had to rebuild on site," said Kenyon.
The coupe glasses will create a 15-foot-tall glass tower and each glass will hold a tiny house. The installation is meant to provoke conversation about the foreclosure and eviction crisis amid climate change across the nation, but namely in his home-city of Baton Rouge.
Along with Tide, seven other installations will be displayed at the Baton Rouge Gallery in August. This show, Cloudburst, will mark the first time that Kenyon has displayed his work in the city that raised him.
He began speaking with representatives from the Baton Rouge Gallery back in 2019, when Cloudburst was just an idea. A lot has happened in the world since then – political tension, a global pandemic and foreign wars – so Kenyon feels even more invigorated to venture from New York to display his socially-motivated work.
"Themes that I've decided to form my work around seem even more relevant today. It feels exciting of course, a wonderful excuse to visit my friends and family, after a period of time with very little travel," said Kenyon.
The nostalgia of returning home can affect anyone with even a small tendency towards sentimentality, and Kenyon is no different. He says showing his work in Baton Rouge will flood him with memories of Mr. Talbot, his art teacher at Westdale Middle School…and his mentors at Southeastern Louisiana University who he credits with squashing the tired narrative of "the starving artist" for him.
"[I had] great professors there that became mentors and they helped me to understand the increasingly important role that art places in culture, as well as the economy." said Kenyon.
Kenyon is inspired by humans and their repeated patterns, whether positive or negative. He says this thread of thought was given to him by a professor who explained the connection between the words route and rut – if one takes a certain route too many times it becomes a rut.
"That was really profound to me that humans are these patterns that they take," said Kenyon. "[I did] a series on the marks made by humans in their environment and the marks made on humans from various objects, like the imprints on a nose from a pair of glasses," he continued.
In many ways, all of Kenyon's works illuminate the patterns of human beings and the impressions they make on our shared environment. He says his hope is to better that environment in a way that has made sense to him since he was a child – art that lives outside of the walls of a gallery, either metaphorically or literally.