NEWS
Covalent Logic Named U.S. Chamber Blue Ribbon Award Winner
WASHINGTON, D.C. - On March 1, 2012, The U.S. Chamber of Commerce named Covalent Logic as one of 75 national Blue Ribbon Small Business Award winners. Covalent logic is one of two Louisiana companies recognized for their dedication to the principles of free enterprise and their contributions to restoring jobs and prosperity.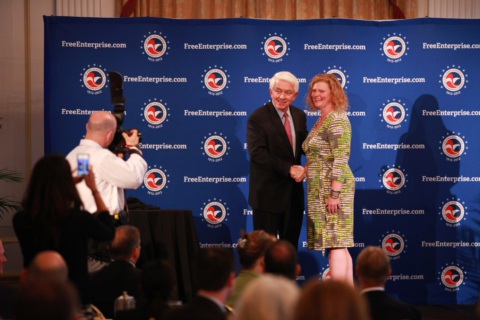 Covalent Logic's Stafford Kendall picks up the Blue Ribbon at the U.S. Chamber Small Business Summit in Washington, D.C.

"The recipients of this year's Blue Ribbon Award exceled in business amid great uncertainty and thrived despite difficult economic times," said Thomas J. Donohue, U.S. Chamber president and CEO. "More important than profits, their successes have provided much-needed jobs and hope to the people in their communities."

As a Blue Ribbon Award winner, Covalent Logic is entered into the running for the Community Excellence Award. This Award is designed to highlight a company who has demonstrated outstanding achievements in promoting community excellence. The award is decided in the month of March through online public voting at www.uschambersummit.com/ceaaward.

"It is an honor to have Covalent Logic's achievements recognized on a national level," said Stafford Kendall, Covalent Logic principal. "Our team takes great pride in our successful collaborations with our local and national clients."

The Baton Rouge Business Report and Junior Achievement recently named Stafford Kendall the Baton Rouge Young Business Person of the Year. The award recognizes an individual's success in business.

Covalent Logic is an integrated communications firm providing design, development and strategy for business, non-profits and government, established by Stafford Kendall and Bryan Murphy in 2005. For more information, call (225) 389-1010 or visit www.covalentlogic.com.