BLOG
Actions Become Habits
If you attended any American middle school, you probably saw the classic poster that read something like, "Thoughts become actions, actions become habits, habits become personalities ... " and as we've all aged a bit since then, we can vouch for the message a bit more than when we were 13 years old.
We know the value strong habits have on our lives. Our team of Covalenteers have instilled habitual behaviors into their lives and we think it's part of what makes them great people to work with.
Here's how a handful of us like to start our day
James Thyraththongsay's alarm clock goes off before anyone else's in the company ... dark and early.
Monday - Friday
3 a.m. - Wake up.
3:05 a.m. - Contemplate life.
3:10 a.m. - Brush my teeth/get ready for the gym.
3:25 a.m. - Drink pre-workout.
3:30 a.m. - Stretch.
4 a.m. - Gym/weightlifting.
5:20 a.m. - Gym/cardio.
6 a.m.- Shower & skincare routine.
6:15 a.m. - Take the puppy out & feed him.
6:30 a.m. - Make wife her smoothie & pack her lunch.
6:45 a.m.- Family time before wife leaves for work.
7:30 a.m. - Log into work.
Ok, so we can't all be James. But Stacey Vincent has found a flow that works for her that also includes some physicality and self-care.
Wake up (after trying — and often failing — to not snooze more than once).
Morning devotional/prayer time — I've found that setting aside this small window of time allows me to start my day off grounded. This ultimately matters most to me and has helped me better weather the storms any given day may throw my way.
Quick hop on Facebook to check notifications and get updates from our kids' schools.
Morning workout — Put in my earbuds and get moving. It isn't the easiest habit to implement but years after getting this routine going, it's one of the best things I've ever done for myself. Building the mental muscle of working out — whether I feel like it or not — has been a game changer. Discipline > motivation
Shower/get ready — Nothing fancy happening here.
Grab my first cup of tea for the day (thanks to my wonderful husband) and head out the door for school drop-off.
Arrive at my desk and get the work day started!
Personally, I'm impressed with Stacey's ability to complete items 2 - 6 without the support of caffeine. I value the jolt as much as Trae Russell does ...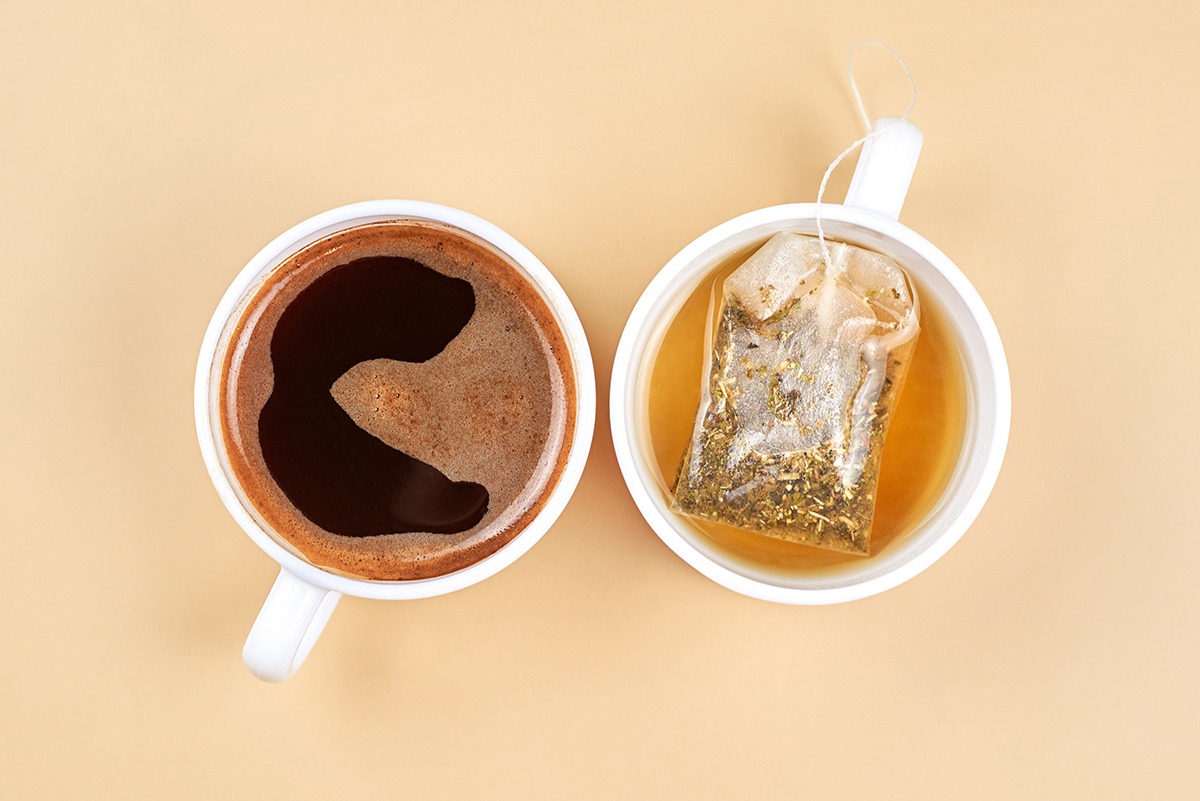 "I start the day with coffee with the missus, making breakfast for my high schooler and then getting about an hour of work done before the "office" opens. That's also when I do all my timesheets from the previous day. :-)"
The jolt designer Jade Newell needs has four legs ...
My dog usually wakes me to go outside so I usually cater to him first. While he is outside I prep his food and water.
I take a minute to stop and say my morning prayers. I also say them with my grandma (something we've done together since I was a toddler).
Let my dog back in. Then I take this time to clean myself up.
Let my dog back out, just in case he needs to go again. I usually read my morning devotionals this time.
During my devotionals, I think of ways to apply what I read to my day.
Take a good five minutes to play with my dog since he usually demands attention.
Talk to my family, usually my parents, as I prepare for work.
Fix a good cup of tea. I usually match my teas to the time of the year so my current favorite is a lemon mint lavender tea. I'll fix a caramel macchiato on days when I'm feeling a bit tired.
And it wouldn't be the Obligatory Agency Newsletter if we didn't keep it real. Senior Account Manager Julie Donald's routine lacks routine ... and that's how she likes it. (And we love her for it!)
I wake up as late as possible. I have multiple alarms. I hit snooze.
I check my phone immediately while in bed.
I drink real milk and real sugar coffee. I bring a regular ol' coffee cup in the car. Classic.
No exercise, no meditating.
I pick my clothes the morning I wear them.
I get the kids in the car, sometimes with breakfast in hand.
I bring the kids' toothbrushes in the car. There are smears of toothpaste all over the place.
On Friday mornings, I listen to local morning radio shows with their "Breakfast Jams - Hot 107.9" or "Polyester Power Hour (Poly Po Ho) 99.9 KTDY" or "Friday Morning Dance Party with Bobby Bones."
Do you relate? Do you feel inspired? Let us know what you routinely do upon rising!